Almost untouched by humans, with its crystal-clear water. Ky Co is one of the most pristine beaches in Vietnam
Located at the foothills of the towering Phương Mai mountain range in the peninsula town of Nhơn Lý in Quy Nhơn City, the pristine Kỳ Co beach is picturesque, possessing both majestic and poetic beauty. The beach attracts many tourists, especially the adventurous sorts, because it not only has enchanting scenery, but also various surprises.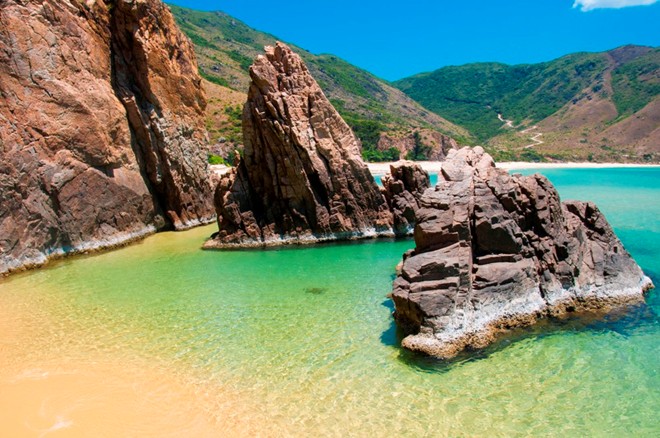 Ky Co beach is located in Nhon Ly commune, about 25 km northeast of Quy Nhon. Looking at the map, Ky Co is a golden sandy stripe like a moon on the sea.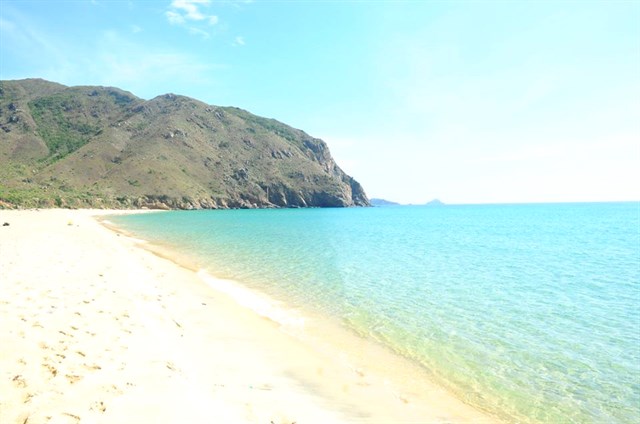 Because around Ky Co beach are mountains, so there are only two ways to go here. If you want to experience the feeling of flying between the vast sky, want to see each flying fish fly, and try to feel floating on the water, and admire the majestic mountains of Nhon Ly, you can come to Ky Co by sea. From Quy Nhon, you can take a motorbike or a taxi to Eo Gio, also in Nhon Ly Commune (from central Quy Nhon to Eo Gio, about VND 250,000). If you are seasick, do not be afraid, because the distance is relatively short (only takes 30 - 40 minutes), so just relax or say some chat with friends have arrived. Also tell you that, according to the experience of seafaring people, sit right in the middle of the boat, because sitting on the two sides are more susceptible to waves
The second way to Ky Co is by road, starting from Suoi Ca Bridge, along the mountain side of Phuong Mai to the south. However, this is a new road, which is temporarily occupied by the investor for the construction of the project, which is in the completion stage, so the main road is the earth road, some sloping sections, Only suitable for you with hard steering, adventure, exploring.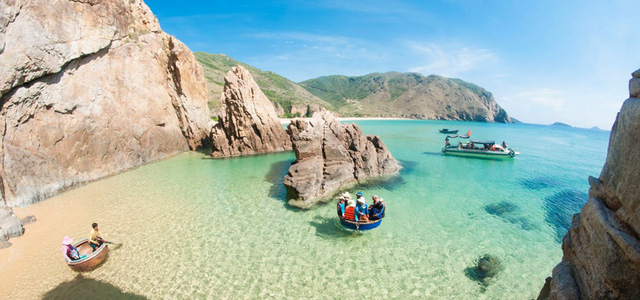 Ky Co is an unspoiled tourist destination, which has not been professionally exploited but mainly spontaneous tourism. When you come to Eo Gio , you will meet many families do travel spontaneously. They have boats or canoes to carry you to Ky Co. If you want to save money, prepare your own food at home, then rent boat Ky Co. One trip - about VND 600,000 to VND 1,000,000 for a boat 20-25 people. If you want to enjoy the taste of the sea, you can ask the residents here to prepare dishes (usually 7 dishes) including snails, abalone, fish, shrimp, squid .... Keep fresh, simple processing but thanks to that, retain the flavor specific to each type of seafood. The cost for a person to go fishing and eat seafood from VND 280,000 to VND 320,000 per person. Immerse in the clear water and enjoy the taste of fresh seafood. That is a wonderful gift that Ky Co bring to visitors near and far.
When you travel to VietNam, don't forget to order Pocket wifi Y54U, VietNam portable wifi, your travel companion. You can order onlineor at our shop at the Tan Son Nhat Airport in Hochiminh City. After clearing customs, pass through sliding doors, turn left & come to shop #3.