Ban Gioc Waterfall is one of Vietnam's most impressive natural sights. Located in the northeastern province of Cao Bang, Ban Gioc the widest – but not the highest – waterfall in the country. The falls occur on the Quay Son River, a beautiful jade-blue body of water, flowing through a pastoral landscape of rice fields and bamboo groves, surrounded by limestone pinnacles. At Ban Gioc, the Quay Son River forms the border between Vietnam and China. Consequently, the falls are half in Vietnam and half in China. The waterfall has two parts. The main lower part is in Guangxi Province of China and the auxiliary higher part is in Dam Thuy Commune, Trung Khanh District, Cao Bang Province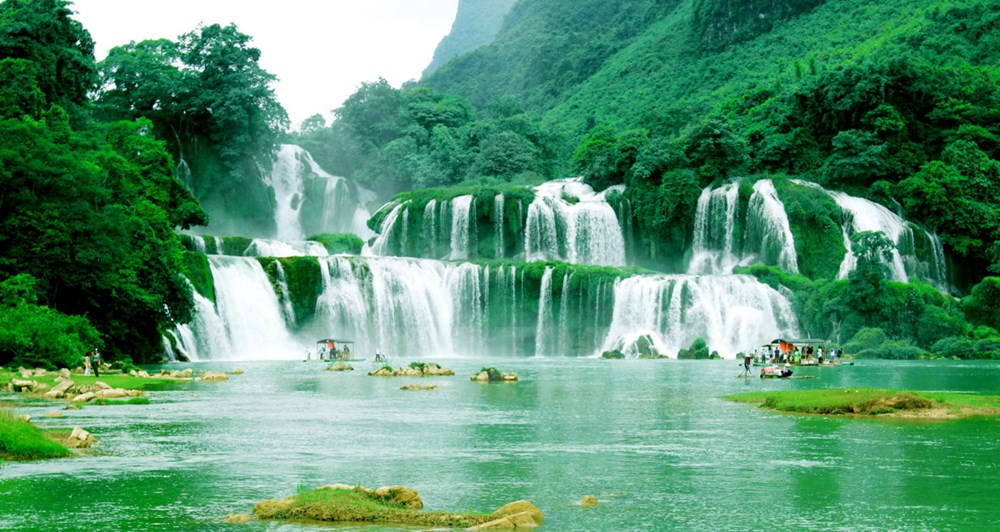 It is the largest waterfall in Asia and the fourth largest waterfall along a national border in the world, with over 200 meters (656 f.) wide and a drop of more than 70 meters (229 ft.). Below it, there is a deep pool more than 200 meters (656 f.) wide and over 30 meters (99 ft.) depth. Surrounded by picturesque karst peaks, its water rushes down a three-tiered cliff and is separated into three falls by rocks and trees. The scenery changes according to the seasons through the year. In spring, the flame-red blossoms are in full bloom. In autumn, the waterfall surroundings turn golden-yellow. In the summer, the waters become stronger and violent and during winter the fall's clear waters drop slowly.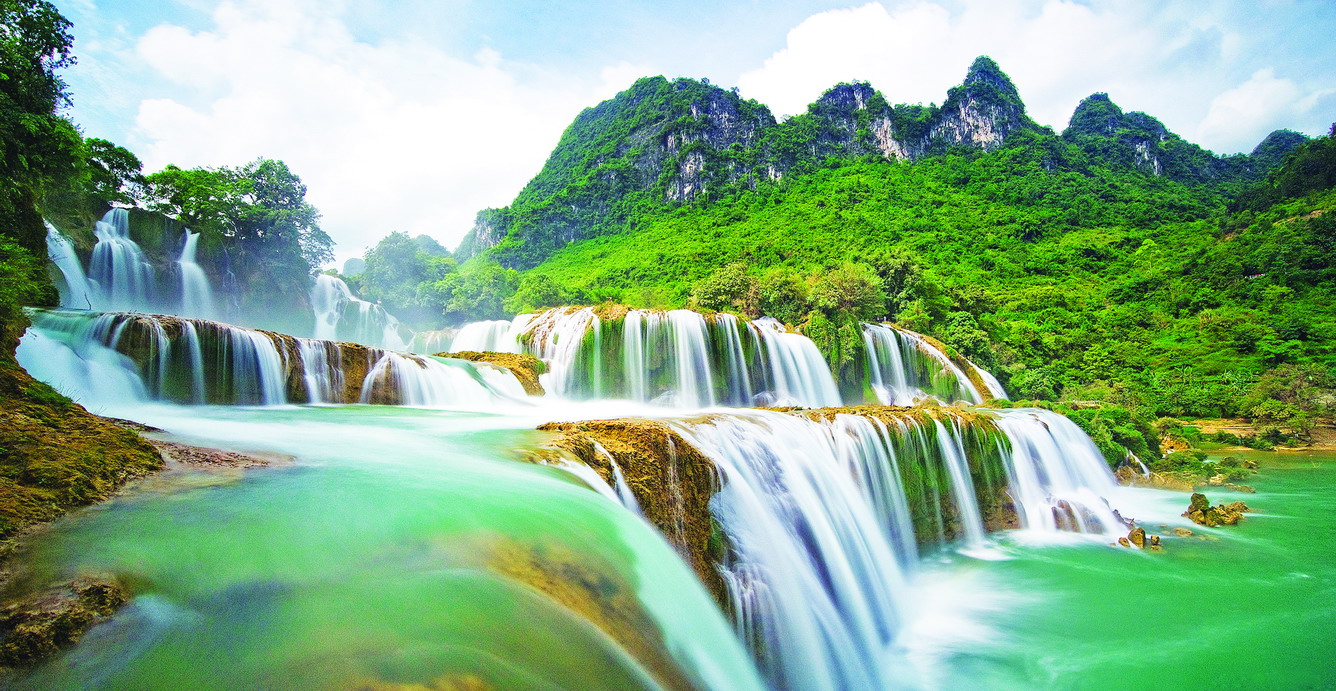 How to get there?
Ban Gioc Waterfall is 350km from Hanoi. From Hanoi, you can take the local bus to Cao Bang then stay there for one night before taking the local bus again to Trung Khach district (20km from Ban Gioc) where you can easily hire a motorbike taxi to Ban Gioc.
Best time to visit Ban Gioc waterfall is during summer time from May to September when it rains sometimes so you can see a big waterfall and you can swim in its cool water. It is also nice to visit from October to December, but the falls is not as big as other months and it can be too cold to swim.
There is a small sloping path to the waterfall. Buses with a seating capacity of 25 people or less can travel on the path while passengers on bigger buses should drop off at a parking lot of the Vietnam border station and walk down the path.
Tourists can take a raft ride to get close to the foot of the waterfall at a price of VND50,000 per person. Sitting on a 20-square-meter raft, visitors can admire the other side of the waterfall. They are not allowed to cross into Chinese overland territory.
When you travel to VietNam, don't forget to order Pocket wifi Y54U, VietNam portable wifi, your travel companion. You can order online or at our shop at the Tan Son Nhat Airport in Hochiminh City. After clearing customs, pass through sliding doors, turn left & come to shop #3.