In a country known for its highly dynamic cities, sometimes the commotion can get to be overwhelming. Lucky for you, there are several hotels in the major cities of Hanoi and Ho Chi Minh City that offer just enough distance to recharge one's batteries before jumping back into the turmoil. Retreat into a parallel dimension where the relentless honking disappears and the pampering begins.
The Sofitel Legend Metropole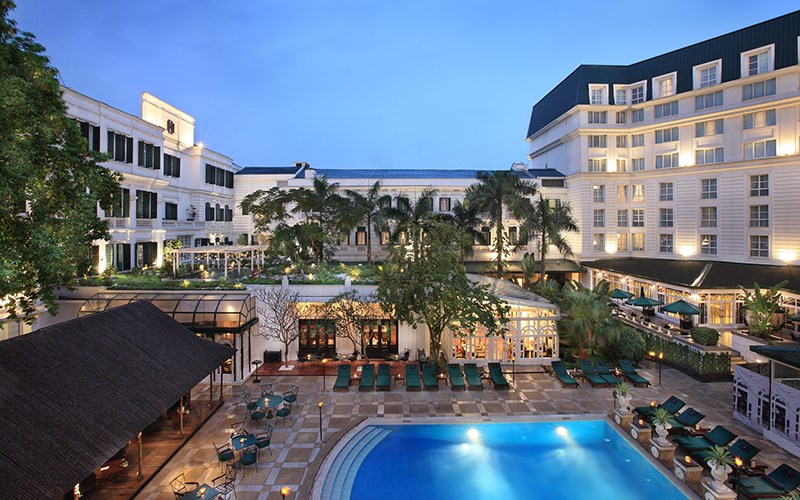 One of only a handful of Sofitel properties to carry the 'Legend' distinction, the Sofitel Legend Metropole is embedded in the fabric of Hanoi's history. Cherished for her old world charm, chances are you'll have plenty to muse about as a guest of the legendary Grand Dame. The corridors incite nostalgia, whisking you back in time to the grandeur of La Belle Époque. There are two wings: a newer wing closer to the Opera House with more neoteric fixtures while the historic Metropole wing still boasts original French-Colonial decor with lacquered wooden floors. In addition to its award winning Le Spa du Metropole, the hotel offers three spectacular restaurants—one of which hosts an unmissable chocolate buffet at afternoon tea—a heated swimming pool, a world class shopping arcade, an épicerie serving the best in French viennoiserie and a daily 'Paths of History' guided tour that takes you through the recently excavated wartime bunker hidden away in the bowels of the hotel. The resplendent trappings and impeccable service have kept the legend of hospitality alive for well over a century.
Address: 15 Ngo Quyen Street, Hoan Kiem District, Hanoi
Website: http://www.sofitel.com/gb/hotel-1555-sofitel-legend-metropole-hanoi/index.shtml
JW Marriott Hanoi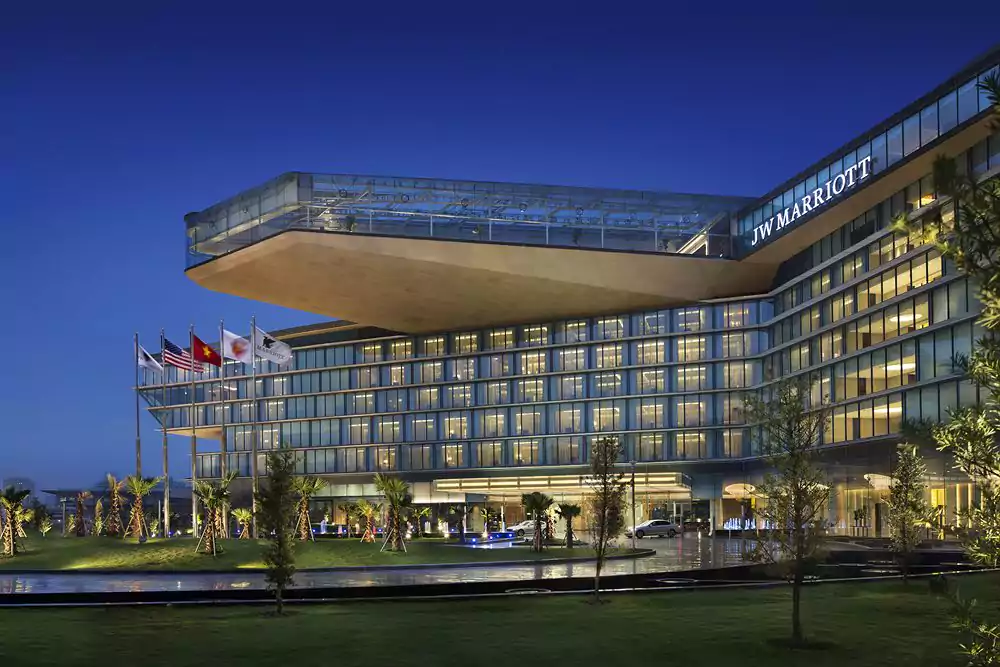 The JW Marriott Hanoi is an architectural marvel, inspired by the imagery of a dragon, with a cantilevered section meant to mimic that of the dragon's head. New York-based architect Carlos Zapata, who also designed Ho Chi Minh City's famous Bitexco Tower, is the mastermind behind the modern interpretation of Vietnam's mythological past. The impressive serpentine-like structure covers 75,000-square metres and features 450 luxuriously appointed rooms. The floor to ceiling windows provide a stunning view of Hoan Kiem Lake. Since its completion in 2013, the JW Marriott Hanoi has attracted a number of guests keen to sample the much raved about French Grill or to be seen at the ultra glamorous Antidote Bar, Hanoi's premiere nightlife hotspot. A state-of-the-art health centre on the rooftop complete with a sauna, gym and a swimming pool offers a 360° panoramic view of Hanoi's cityscape.
Address: No. 8 Do Duc Duc Road, Me Tri Ward, Su Tu Liem District, Hanoi
Website: http://www.marriott.com/hotels/travel/hanjw-jw-marriott-hotel-hanoi
InterContinental West Lake
The leading business hotel in Vietnam for two years in a row, the InterContinental West Lake's enviable adjacency to Hanoi's largest lake vouches for its popularity amongst business and leisure travellers alike. Straddling the lakeshore, the private balconies--with some jutting out into Lake Tay Ho—provide city vacationers with an undisturbed view of the tranquil waterfront. Louvered windows and gorgeous hardwood floors are some luscious accents that speak to the property's timeless charm. The most lavish of the upscale amenities afforded to guests is The Sunset Bar, one of three lounges on the premises. The bar is accessible via a causeway lined with torches. Soak up a spectacular sunset with one of the signature cocktails in hand.
Address: 1 Nghi Tam, Tay Ho District, Hanoi
Website: http://www.hanoi.intercontinental.com
HoChiMinh City
An Lam Saigon River Private Residence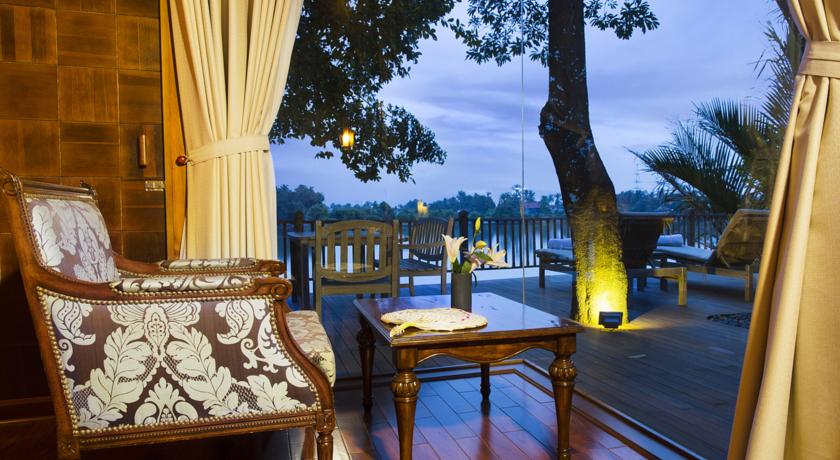 This intimate 14-room sanctuary is a luxurious hideaway situated along the banks of the Saigon River. The private residences cater to one's need for privacy and pampering after a full-day of being immersed in Vietnam's most densely populated city. Opt for the 15-minute scenic speedboat ride from the city centre, which beats a 40-minute long drive through the jam-packed motorways. Upon arrival, you'll be assigned your own personal around-the-clock butler who will entertain your every whim and fancy. The sprawling banyan trees and birds of paradise littering the courtyard is a welcome sight for the nature-deprived. Whether you splurge on an opulent standalone villa or a more modestly sized room, each accommodation is outfitted with a private balcony or terrace that offers a dreamy view of the sun melting into the horizon. Watch the world float by from the decks of the riverside restaurant or take an afternoon dip in the aquamarine pool, made more inviting by the sight of white flowers skimming the pool's surface.
Address: 21/4 Trung Street, Vinh Phu, Thuan An, Binh Duong, Ho Chi Minh City
Website: http://anlam.com
The Reverie Saigon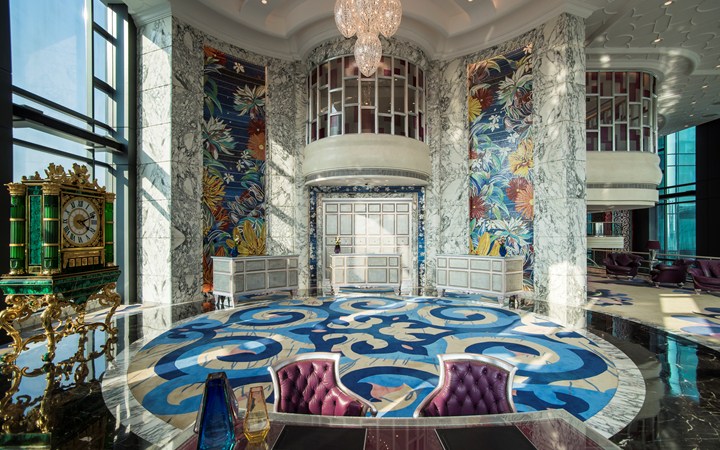 As its name alludes, a stay at The Reverie is akin to being lost in a daydream. An objet d'art in this urban landscape replete with steel and iron, the stately lobby is but a glimpse of the wildly ornate furnishings that permeate every nook and cranny. A bold design philosophy pioneered by the world's leading Italian designers is reflected in all aspects of the space. From the freeform pool to the cutting edge wellness centre, and in each of the 224 luxury rooms and 62 suites—all have been crafted with painstaking attention to detail. The high-rise hotel plays host to some of the most breathtaking panoramic views of Saigon's glittering skyline and is home to five world-class restaurants.
Address: 22-36 Nguyen Hue Boulevard, District 1, Ho Chi Minh City
Website: http://www.thereveriesaigon.com
Park Hyatt Saigon
The Park Hyatt is a perfect escape from the frenetic atmosphere of downtown Saigon. The hotel's close proximity to the Opera House and Dong Khoi's collection of art galleries makes it an obvious choice for the culturally inclined. Housed in an arresting French colonial structure, this ivory building is redefining metropolitan luxury. The romantic notions of yore echo throughout the 224 guestrooms adorned with historic photographs of Old Saigon. The mahogany wrought headboards contrast beautifully against crisp white linens. Combat the heat with a few lap sin their 20-metre outdoor pool surrounded by leafy palms. Other onsite facilities include a well-equipped fitness studio and Xuan Spa, notable for its Mekong Delta-inspired treatments. Two luxe options await the hungry traveller: for a more traditional route, head to Square One for some homegrown Vietnamese cooking. Meanwhile, The Opera seduces visitors with an authentically Italian al fresco dining experience in the shadow of the Opera House.
Address: 2 Cong Truong Lam Son, Ben Nhge, Ho Chi Minh City
Website: http://saigon.park.hyatt.com/en/hotel/home.html
Source: vietnamtourism

When you travel to VietNam, don't forget to order Pocket wifi Y54U, VietNam portable wifi, your travel companion. You can order onlineor at our shop at the Tan Son Nhat Airport in Hochiminh City. After clearing customs, pass through sliding doors, turn left & come to shop #3.